AQUATHIN ACES ISO 9001 AUDIT…AGAIN !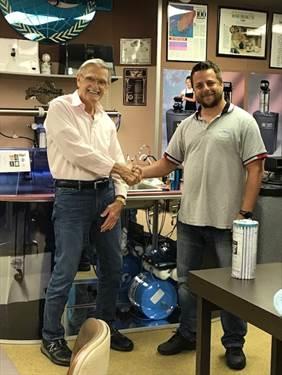 AQUATHIN ACES ISO 9001 AUDITAGAIN !
ISO 9001:2015 TRANSITION COMPLETED !
This special NewsBulletin is to inform all Aquathin Dealers and Customers that Aquathin has passed yet another ISO 9001:2008  Reassessment  Audit with excellent marks and commentaryand is now ISO 9001:2015 Quality Certified.  New certificate will be forwarded shortly.
Aquathin has been an ISO  Certified  Quality Management company since 200513 YEARSand every external audit performed by NQA has been passed without any major non-conformances. This years Lead Auditor, Pete Marsh, again mentioned to Alfie and I that Aquathin is both one of the easiest and hardest companies to audit. Easy because all of our  Processes have been in place for so long without change that it makes his job easier as an Auditor to go through the checklist and verify all the processes are the same with no changes as they were at this time last yearand hard because most companies he audits always have non-conformances and he spends a great deal of time during the audits here at Aquathin looking for non-conformances and flaws within our Quality Management System. See full announcement on www.aquathin.com Facebook page. Like us on  
This just goes to show how the ISO 9001 has added Value and Quality to Aquathin's products and services.
REMEMBER, THE NEXT BEST THING TO OWNING AN AQUATHIN IS RECOMMENDING ONE TO A FRIEND !
I Love My Aquathin !!!
FOR THE BEST TASTE IN LIFE &
37 Years Pure Excellence
...into another Quarter Century re-inventing the water industry !
Think Aquathin...AquathinK !
** AN ISO9001:2000, ISO9001:2008 QMS REGISTERED / CERTIFIED COMPANY - (IMS 0192, NQA 12635) **
& 2008 PRESIDENT'S E STAR AWARD RECIPIENT  
Jamie Talbot
Quality Manager
Lead Technician & Customer Services
Aquathin Business Center  /  950 South Andrews Avenue / Pompano Beach, FL  33069
T 954 781 7777 / F 954 781 7336 / E jamie@aquathin.com  / Skype aquathinhq.jamie
For More Information About Aquathin, click
https://www.facebook.com/aquathin/
https://www.linkedin.com/in/alfielipshultz/