Austin Air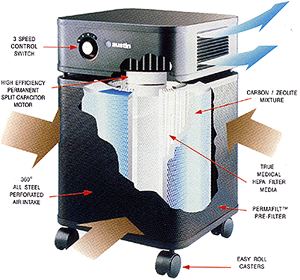 360º Progressive Filtering System
The HealthMate addresses the complete spectrum of air cleaning, removing sub-micron particles, noxious gases and chemicals. Austin Airs 360-degree intake system draws air into all sides of the HealthMate, passing it through a 4-stage filter. The result, more clean air delivered faster and more efficiently than any other air cleaner on the market.
Stage 1 - Large Particle Pre-Filter
Removes particles easily seen by the (e.g.dust, hair and pet dander)
Stage 2 - Medium Particle Pre-Filter
Removes particles easily seen by the (e.g.dust, hair and pet dander)
Stage 3 - 15 Lbs. of Activated Carbon and Zeolite
Removes 99.97% of all particles larger than 0.3 microns
Stage 4 - 60 Sq. Ft. of certified hepa
Removes chemicals, gases and odors.
Austin Air Purifiers Trusted by FEMA and the Red Cross
Its something we do all day, every day with very little thought: breathing. And, too often too little thought is given to the quality of what we are bringing into our bodies daily through our breath, through our lungs.
But, as concerns over indoor pollution grow, air purifiers are becoming more popular and Austin Air home air purifier units are one choice that should not be overlooked.
Austin Air is a manufacturer of air purifiers and their units were chosen by the U.S Government to help address the crucial air quality issues in New York during the aftermath of 9/11.
They fulfilled an order for air cleaners that was the single largest deployment of air purification units ever in U.S. history, and were chosen under the careful guidelines of FEMA and the Red Cross.
The home air purifiers that are made by them are said to have been designed from the inside out, with their engineers focusing first on the most important element of the air cleaner, the filter.
Austin Air units have a unique air intake system that is able to pull air in from all sides, or a full 360 degrees. This particular design allows for maximum intake efficiency and allows for more purified air to be delivered faster into the home environment.
Every minute that an air cleaner of theirs is operating, 250 cubic feet of air is able to be processed through a four-stage filtering system that step-by-step progressively removes the contaminants from the air. The manufacturers claim that this high level of processing the air enables their air cleaners to: reach the highest possible levels of performance; achieve superior air flow levels; offer a longer filter life (estimated at 5-years with basic residential use); and extend the life expectancy of the Medical Grade HEPA used (the most important aspect of the filtration process).
In order for any home air cleaner to be truly effective in a given space, it must be capable of removing sub-micron particles, chemicals and noxious gases. It must also be able to achieve this without creating unwanted by products, such as ozone.
Their cleaner units, regardless of the size of the unit, included true Medical Grade HEPA filtration material, and activated carbon, which are claimed by the manufacturer to be the only trusted air filtration system technology that is widely used in operating rooms and throughout hospital settings. True HEPA is a standard for filtration that was devised by the Atomic Energy Commission with the intent of safeguarding the respiratory system in humans, and is the most effective media for filtering particulate that is available on the market.
This is the grade of air purifier filter material used in their systems. True Medical Grade HEPA filters can remove 99.97% of airborne particulates as small as 0.3 microns, and can catch 95% of the particulates of 0.1 microns and smaller.
Austin Air also employs specially manufactured Activated Carbon in its air cleaners. Activated Carbon is very porous and this gives the carbon more surface area in which to absorb the impurities in the air such as noxious gases and cigarette smoke. The manufacturers also say that their room air cleaner units do not generate any type of by-products.
If you are having allergic reactions, especially when in your home, or have developed asthma or other respiratory conditions, then you should investigate the benefits of using an Austin Air room air purifier in your home.
Everything you want to know about air filters is at your fingertips from Mike Selvons portal, where a lot more information awaits you about Austin Air purifiers. Visit us and leave a comment at our air purification blog.