Water Guard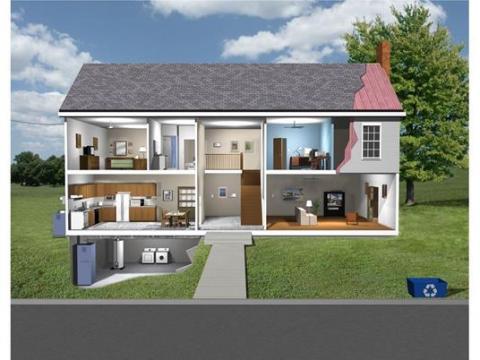 Over the last several years,  our industry has been introduced to various models of "leak detectors"many of which are no longer on the market due to failure to detect, false alarms, difficult to install on water lines, expensive or too cheaply made...low volume.
And all were directed for undersink locations.  Insurance industry reports(1) that while weather-related claims are most common, fire causes the most expensive claims, accounting for nearly one quarter of the total claim costs. Fires are often caused by appliance and machinery misuse or failure, electrical problems, including wiring or outlet issues, and cooking. Typically two main causes of water damage weather events, such as rain or snow melt, and other issues, such as pipes bursting or leaking, joints, sewer or sump pump backups or appliance leaks (hot water tanks, washing machines) followed fire as the most expensive claims.
 The same company that for the past 30+ years, has provided Aquathin our relays for your Commercial RODI Systems has introduced
WATER GUARDsmall, compact,yet robust and inexpensive.
DESIGNED TO FOCUS ON "ALL WATER SENSITIVE AREAS" OF YOUR HOME OR BUSINESS.
             Simply install a 9 volt battery and lay it down !!!
AND EQUALLY IMPRESSIVE  >>> Consider giving free with purchase, service.  Charge $24.00 each for all additional locations.
Water Guard
 Providing continuous, 24 hour protection against water damage, the Water Guard is
compact and easy to use. Just place the WG1 near your water sensitive areas and it will
sound a 90 dB alarm when water is present.
Features / Benefits
Responds to direct contact with water
Powerful 90 dB audible alarm
Compact design, small enough to place behind appliances
Floating case
Continuous alarm up to 72 hours
Low batter indicator
Powered by 9 V battery (not included) no 110v or 220v plug-ins
Dimensions: 2 ¼ X 4 X 1 ¼
Weight: 3 ozs.
90 day Warranty
Applications
Sump Pumps             Near Plumbing
Water Heaters            Dishwashers
Closets                        Under Water Beds
Garage                        Computer Rooms
Under Sinks               Kitchens
Washing Machines  Toilets
Bathrooms                  Basements
Near Fish Tanks
(1)  http://www.insurancejournal.com/news/national/2016/04/06/404400.htm
Warmest regards to all,
FOR THE BEST TASTE IN LIFE &
37 Years Pure Excellence
...into another Quarter Century re-inventing the water industry !
Think Aquathin...AquathinK !
( visit the all new www.aquathin.com )
** AN ISO9001:2000, ISO9001:2008 QMS REGISTERED / CERTIFIED COMPANY - (IMS 0192, NQA 12635) **
 & 2008 PRESIDENT'S E STAR AWARD RECIPIENT ( visit www.aquathin.com/estar2008.pps )
Your AquathinTech Support Team
Aquathin Business Center  /  950 South Andrews Avenue / Pompano Beach, FL  33069
T 954 781 7777 / F 954 781 7336 / E tech support@aquathin.com 
P.S. "Splash NewsBulletins", "Forum Q & A" , "Allergic Reaction" , Biz Bank, Tech Bank and Quote Bank... ARE  ALL FREE services to all Authorized Aquathin Dealers and their clients to keep you abreast of technology updates and industry news.  Like us on
For More Information About Aquathin, click
https://www.facebook.com/aquathin/
https://www.linkedin.com/in/alfielipshultz/