Lead Out Water Filter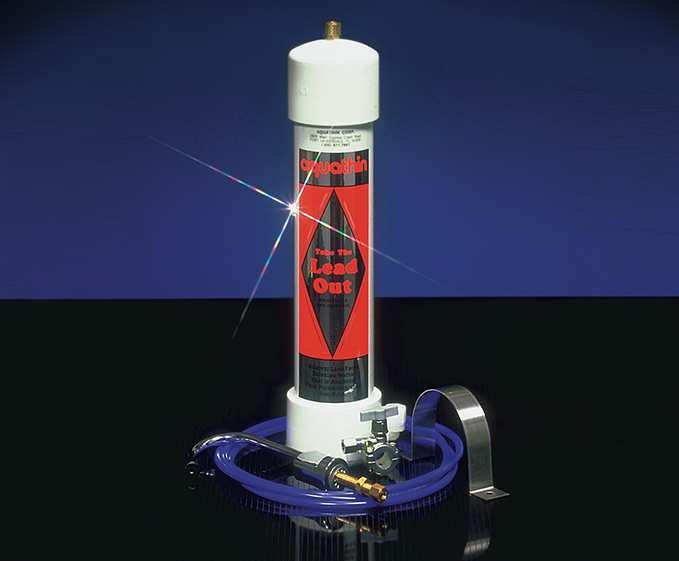 Aquathin's Lead Out Filter.
In the early 1900's it was common practice to use lead plumbing.  Since the 1930's, copper pipe has been used for residential and commercial plumbing.  Until 1986, however, copper pipes were joined or repaired with lead based solder.
Lead is a soft metal and will leach into drinking water.  As any other heavy metal, if consumed, lead will concentrate in our bodies.  Lead is known to cause serious damage to the brain, kidneys, nervous system and red blood cells.  The greatest risk, even with short-term exposure, is to young children and pregnant women.
The Aquathin Lead Out Filter is structured to reduce the lead concentration far below the E.P.A. recommended level of acceptance.  The lead Out Filter also contains a secondary media for continued reduction of sediment, chlorine and organic contaminates.
Please click the Product Catalog button below for more information on Aquathin's Lead Out Filter.
Our policy and contractual agreement with our ever growing Dealer Family Network is that Aquathin will only provide the very best quality equipment to meet your needs, through educated and highly trained Authorized Aquathin Water Treatment Professionals [ that is why we make the very best Dealers in the world through our thorough training courses at Aquathin University ]. That means you will never find Aquathin systems on shelves of warehouse retailers where aisle clerks haven't got a clue for when, how and under what conditions to properly prescribe a system ! We would love to provide you the name of the nearest Authorized Aquathin Dealer. If we do not have a Dealer in the immediate area, Aquathin will be pleased to provide you Factory Direct Sales and Service. At the moment we do establish a Dealer in your area, your information will be transferred to the Dealer. Thank you for choosing Aquathin to provide your family or business, the very best in home water security.