Soft & Clean SYNASC Water Conditioner & Filtration Series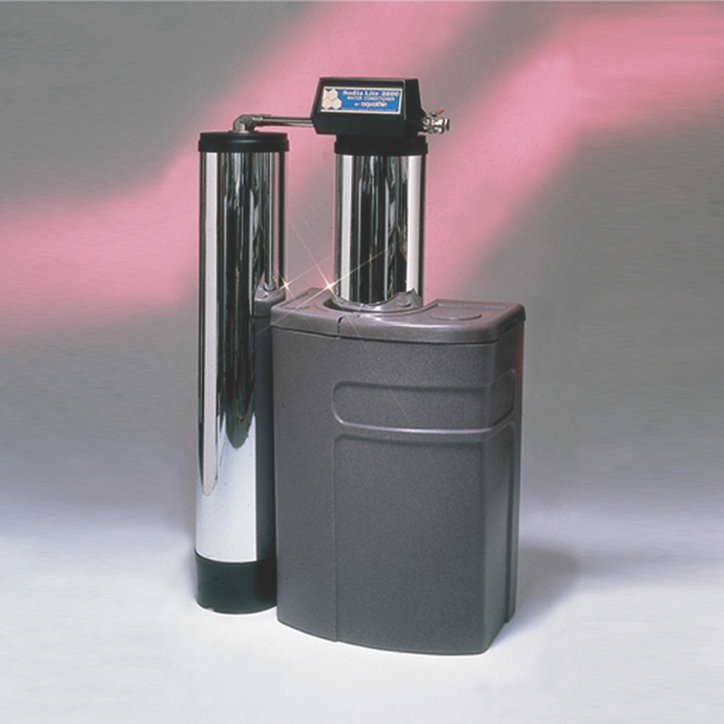 The Aquathin SodiaLite Synchromatic 2000 Water Conditioner fits the bill for the "Big Job" in compact style. History states that large capacity water softeners need to be cumbersome, bulky, and worth more in freight than materials. Aquathin rewrites the history books with the unique design of the Synchromatic Series. Aquathin's technique allows for twin lightweight/heavy duty fiberglass resin tanks joined by a Fleckenstein 9000 or 9500 metered valve. Each resin tank operates independently yet united to perform continuous, non-interrupted softening. Yes, regeneration and softening occur simultaneously without shutdown. And as an added feature, Aquathin allows the resin tanks to regenerate with softened water for maximum resin efficiency and reduction of salt usage. The Aquathin Synchromatic Series is also available for filtration and point of entry nitrate removal.
Please click the Product Catalog button below for more information on the Aquathin Synchromatic Series.
Our policy and contractual agreement with our ever growing Dealer Family Network is that Aquathin will only provide the very best quality equipment to meet your needs, through educated and highly trained Authorized Aquathin Water Treatment Professionals [ that is why we make the very best Dealers in the world through our thorough training courses at Aquathin University ]. That means you will never find Aquathin systems on shelves of warehouse retailers where aisle clerks haven't got a clue for when, how and under what conditions to properly prescribe a system ! We would love to provide you the name of the nearest Authorized Aquathin Dealer. If we do not have a Dealer in the immediate area, Aquathin will be pleased to provide you Factory Direct Sales and Service. At the moment we do establish a Dealer in your area, your information will be transferred to the Dealer. Thank you for choosing Aquathin to provide your family or business, the very best in home water security.