AquaShield Triple Water Filters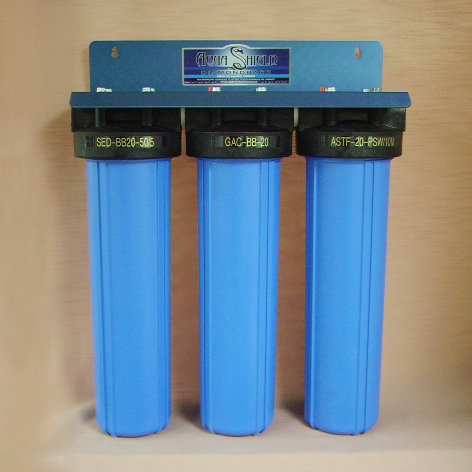 The AquaShield Triple Filter 3000 & 4000 Series design resulted from a growing concern for the possible negative effects resulting from bathing in water that contains organic pollutants, chlorine, chloramines, bacteria and virus as well as breathing in the vapors while taking showers. The exposure from bathing in and breathing vapors of water containing pollutants could be in greater concentrations than acquired through drinking. Yet, we must be aware of both drinking and washing water and give each a high degree of importance. The AquaShield Triple Filter 3000 & 4000 Series combines the heavy duty Commercial Industrial prefiltration for our superior Reverse Osmosis PPVM Systems with the unique AquaShield Antimicrobial Filter Series, an antimicrobial within it to inhibit bacteria, virus, algae, fungus, mold and associated odors...and allows you to customize efficiencies based upon your needs through the capacity to select among our superior quality cartridges.
Please click the Product Catalog button below for more information on the Aquathin AquaShield Series Filters.
Our policy and contractual agreement with our ever growing Dealer Family Network is that Aquathin will only provide the very best quality equipment to meet your needs, through educated and highly trained Authorized Aquathin Water Treatment Professionals [ that is why we make the very best Dealers in the world through our thorough training courses at Aquathin University ]. That means you will never find Aquathin systems on shelves of warehouse retailers where aisle clerks haven't got a clue for when, how and under what conditions to properly prescribe a system ! We would love to provide you the name of the nearest Authorized Aquathin Dealer. If we do not have a Dealer in the immediate area, Aquathin will be pleased to provide you Factory Direct Sales and Service. At the moment we do establish a Dealer in your area, your information will be transferred to the Dealer. Thank you for choosing Aquathin to provide your family or business, the very best in home water security.