SYNCHROMATIC MEGACHAR High Flow Demand Carbon Filtration (@)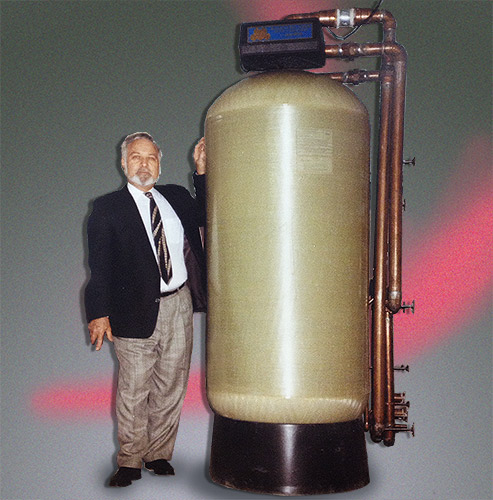 HFD SERIES ( 1 ½" WATERLINE ) -- FLOW RATES OF 37 gpm -- 48 gpm PEAK [BFF-1 MODEL is to be used when pH is below 6.8. BFF-2 MODEL is to be used when pH is 7.5 or higher and/or minimal TANNINS are present.] MANIFOLD 2,3,4,5, or 6 UNITS FOR HIGHER FLOW RATES of NON INTERRUPTED SOFTENED WATER. FOR EXAMPLE: HOTELS, HOSPITALS, LAUNDRIES...
MODEL#HFD-BFF-1/5HFD-BFF-2/5HFD-BFF-3/5HFD-BFF-1/7HFD-BFF-2/7HFD-BFF-3/7HFD-BFF-1/8.5HFD-BFF-2/8.5HFD-BFF-3/8.5TANK13" X 54"
2.5 CUFT./TANK
200 lbs.
14" X 65"
3.5 CUFT./TANK
350 lbs.
16" X 65"
4.25 CUFT./TANK
450 lbs.
GACWEIGHT
Our policy and contractual agreement with our ever growing Dealer Family Network is that Aquathin will only provide the very best quality equipment to meet your needs, through educated and highly trained Authorized Aquathin Water Treatment Professionals [ that is why we make the very best Dealers in the world through our thorough training courses at Aquathin University ]. That means you will never find Aquathin systems on shelves of warehouse retailers where aisle clerks haven't got a clue for when, how and under what conditions to properly prescribe a system ! We would love to provide you the name of the nearest Authorized Aquathin Dealer. If we do not have a Dealer in the immediate area, Aquathin will be pleased to provide you Factory Direct Sales and Service. At the moment we do establish a Dealer in your area, your information will be transferred to the Dealer. Thank you for choosing Aquathin to provide your family or business, the very best in home water security.