Scala 2 Pump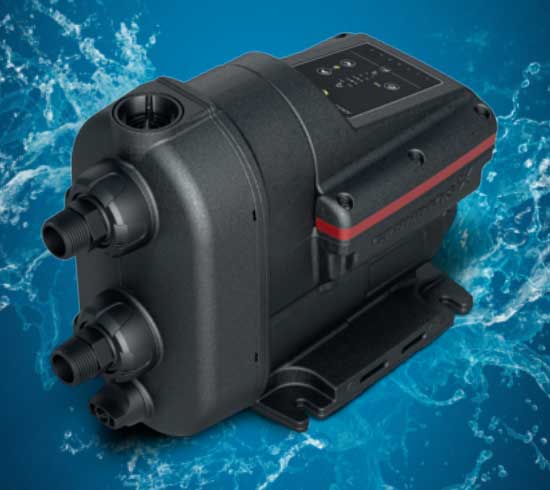 Perfect water pressure finally compact and easy to install
SCALA2 is a fully integrated water booster pump providing perfect water pressure in all taps at all times even with multiple taps and showers running at the same time. It packs pump, motor, tank, sensor, drive and non-return valve into one compact unit. And with its intelligent pump control, SCALA2 automatically adjusts performance to both inlet pressure and water consumption in the home. Thanks to a water-cooled motor, SCALA2 even offers one of the lowest noise levels of any booster on the market.
What is intelligent pump control?
SCALA2 features a built-in sensor, which constantly measures the discharge pressure. If the pressure drops below the desired level, SCALA2 boosts its operation immediately to compensate for the loss of pressure. We call it intelligent pump control and the result is perfect water pressure.
Benefits
Perfect water pressure: Intelligent pump control adjusts operation automatically
Low noise:As quiet as a modern dishwasher (47 dB(A) in typical use)
Easy selection: One variant for all domestic boosting needs
Easy installation: Compact, all-in-one solution, plug-and-pump
Easy to operate: User-friendly control panel
Reliable operation: Dry-running protection, anti-cycling
Long lifetime: Quality-tested to perfection, maintenance-free
Applications
SCALA2 is the perfect choice for residential buildings with up to 3 floors and 8 taps.
Boosting from mains: Increases the water pressure delivered by city mains
Boosting from tanks: Increases water pressure from roof tanks, break tanks and ground tanks, including rainwater tanks.
Boosting from wells: Pumps water from a depth of 8 metres
Suitable for both Indoor and outdoor installation X4D and Enclosure type 3(US).
SCALA 2 - Installation video Part 1   https://www.youtube.com/watch?v=g-9WOyJNC2I
SCALA 2 - Installation video Part 2  https://www.youtube.com/watch?v=-leSxu5OXMg
SCALA2 How to get perfect water pressure  https://www.youtube.com/watch?v=Vxqt86IgqXU
Our policy and contractual agreement with our ever growing Dealer Family Network is that Aquathin will only provide the very best quality equipment to meet your needs, through educated and highly trained Authorized Aquathin Water Treatment Professionals [ that is why we make the very best Dealers in the world through our thorough training courses at Aquathin University ]. That means you will never find Aquathin systems on shelves of warehouse retailers where aisle clerks haven't got a clue for when, how and under what conditions to properly prescribe a system ! We would love to provide you the name of the nearest Authorized Aquathin Dealer. If we do not have a Dealer in the immediate area, Aquathin will be pleased to provide you Factory Direct Sales and Service. At the moment we do establish a Dealer in your area, your information will be transferred to the Dealer. Thank you for choosing Aquathin to provide your family or business, the very best in home water security.