Rust Sentry Series - Iron Filter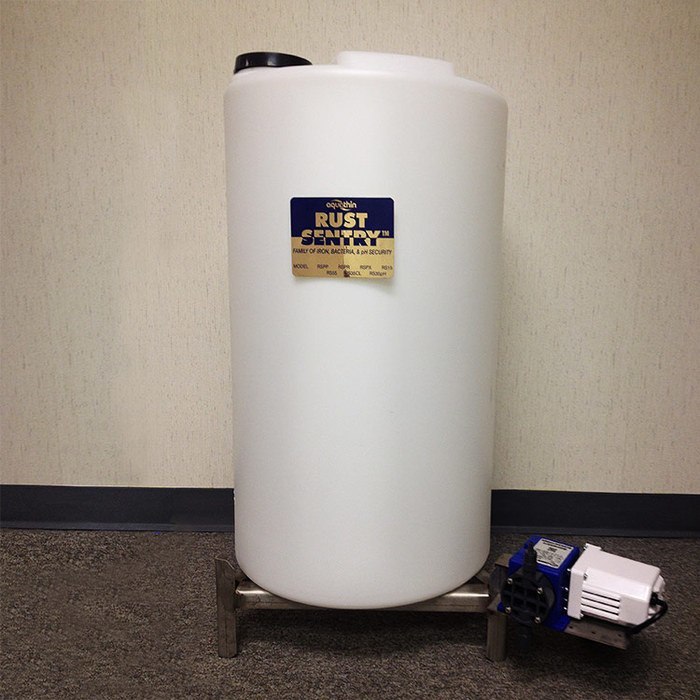 The age old problem of iron in water is immediately remedied by the Aquathin Rust Sentry Iron Filter. For years, iron has caused deep, dark stain deposits in toilets, sinks, bathtubs, shower stalls, dishwashers, and icemakers. Only the frequent use of harsh acid-type chemicals and abrasive cleaners could reduce the stain deposits that would soon re-appear. The Aquathin Rust Sentry 2000 Iron Filter with it's powerful "potassium permanganate green sand filtering agent (KMnO4)", actively removes the iron and safely prevents staining. Often, the problem of iron is accompanied by dissolved manganese (blue-green or brown stains) and the rotten egg odor of hydrogen sulfide gasses. The Aquathin Rust Sentry 2000 iron Filter has the capabilities of removing these associated water problems while at the same time, acting on the iron. In areas where water contains decayed organic matter (humic acids or tannins) the Aquathin Rust Sentry 2000 Iron Filter is installed in conjunction with the Aquathin Soft & Clean Water Conditioner to prevent the shadow-type staining associated with tannins. The Aquathin Professional Water Treatment Dealer is skilled in analyzing these siutation in order to prescribe the correct system and installation settings.
Please click the Product Catalog button below for more information on Aquathin's Rust Sentry Filters.
Our policy and contractual agreement with our ever growing Dealer Family Network is that Aquathin will only provide the very best quality equipment to meet your needs, through educated and highly trained Authorized Aquathin Water Treatment Professionals [ that is why we make the very best Dealers in the world through our thorough training courses at Aquathin University ]. That means you will never find Aquathin systems on shelves of warehouse retailers where aisle clerks haven't got a clue for when, how and under what conditions to properly prescribe a system ! We would love to provide you the name of the nearest Authorized Aquathin Dealer. If we do not have a Dealer in the immediate area, Aquathin will be pleased to provide you Factory Direct Sales and Service. At the moment we do establish a Dealer in your area, your information will be transferred to the Dealer. Thank you for choosing Aquathin to provide your family or business, the very best in home water security.