Reverse Osmosis Faucet Options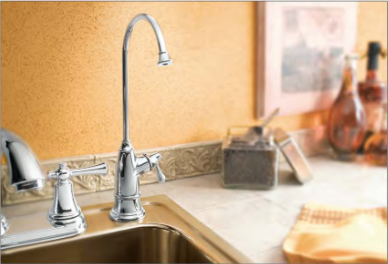 Made of high quality lead-free brass, our designer kitchen faucet is a real standout and a great opportunity for you to set yourself apart. This reverse osmosis faucet features a smooth operating ceramic disk element, lever style handle, high reach neck design of 12, protective spout tip to prevent after drip, and a patented modular air gap. The Designer Reverse Osmosis faucet retrofits most brands and is shipped complete with preinstalled tubing for quick connections. Choose from 8 designer finishes to compliment virtually any décor! All reverse osmosis faucets are NSF listed to ANSI NSF Std. 61 - 9 & 372. Two year warranty.
Our policy and contractual agreement with our ever growing Dealer Family Network is that Aquathin will only provide the very best quality equipment to meet your needs, through educated and highly trained Authorized Aquathin Water Treatment Professionals [ that is why we make the very best Dealers in the world through our thorough training courses at Aquathin University ]. That means you will never find Aquathin systems on shelves of warehouse retailers where aisle clerks haven't got a clue for when, how and under what conditions to properly prescribe a system ! We would love to provide you the name of the nearest Authorized Aquathin Dealer. If we do not have a Dealer in the immediate area, Aquathin will be pleased to provide you Factory Direct Sales and Service. At the moment we do establish a Dealer in your area, your information will be transferred to the Dealer. Thank you for choosing Aquathin to provide your family or business, the very best in home water security.