SEE WHAT THE AMERICAN MEDICAL ASSOCIATION SAID ABOUT DRINKING WATER AND HUMAN HEALTH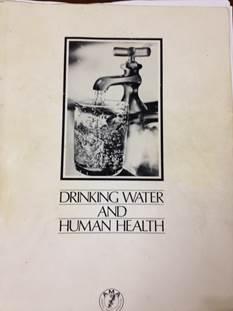 "It is unfortunate that history does not provide us with the crystal ball that tells us what we should do before we pay the price for not having done it.   We do not have to wait for this to happen.  I do not think we will ever know with any degree of certainty what harm our contaminated water is causing us.  I do not believe this lack of knowledge provides anyone a license to produce contaminated drinking water that is potentially harmful to the public's health.  In my opinion, we must move ahead on the basis of the best evidence that is available to produce the best water that we can.  We do know these modern contaminants are not good for us, we just do not know how bad they are for us.
                The time is now for us to require the best treatment that technology can provide to protect the public from the myriads of toxic chemicals we have discharged to our environment and which ultimately find their way into our water supplies.  I believe the time is now for us to adopt a non-degradation policy with respect to the quality of the water we drink.  I believe the time is now for the American public, its legislators, and its regulators to say we are not going to play Russian roulette with our health and the future posterity of this nation.  What specifically should we do?  I hope this meeting will provide some of the answers, influencing the movement toward better drinking water quality for years to come."
By Dr. Charles C. Johnson, Jr.,  from DRINKING WATER AND HUMAN HEALTH, copyright 1984 by the American Medical Association.
"THE WATER WE WERE TOLD WAS SAFE TO DRINK 20 YEARS AGO, WAS NOT SAFE BY TODAY'S STANDARDS.  AND MANY OF TODAY'S REGULATIONS ARE SEEKING MORE STRICT CONTAMINATE REDUCTIONMEANING TODAY'S STANDARDS ARE NOT TOTALLY SAFE.  THERE IS NO SUCH THING, IN OUR OPINION, AS A LITTLE SAFE, OR A LITTLE MORE SAFER.  GIVEN THE CHOICE TO CONSUME CONTAMINATES OR NOTWE CHOOSE NOT."
-- By Alfred J. Lipshultz, President Aquathin Corp., 1990 AQUATHIN UNIVERSITY
What we have been doing for decades is just managing the decline of water quality.
Steven Bellone, the executive of Suffolk County, New York, July 2017
THERE IS A GROUP THAT HAS ACHIEVED THE GOALS OF THE AMERICAN MEDICAL ASSOCIATION
THEY ARE THE AQUATHIN MULTI BARRIER RODI CUSTOMERS
I LOVE MY AQUATHIN !  AND REMEMBER, THE NEXT BEST THING TO OWNING AN AQUATHIN IS RECOMMENDING ONE TO A FRIEND !!
For More Information About Aquathin, click
https://www.facebook.com/aquathin/
https://www.linkedin.com/in/alfielipshultz/