Detroit / Richmond water producer gains international recognition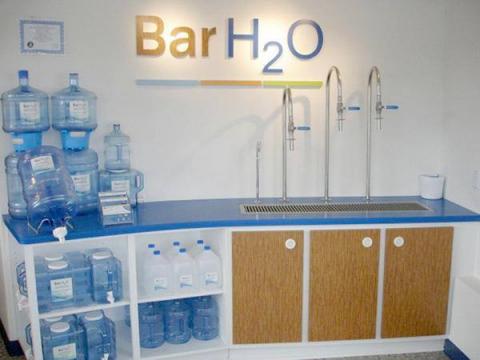 ENJOY the article below (and on Aquathin Facebook https://www.facebook.com/pages/Aquathin/256844846496 ) regarding Jim Legue and his wife Janet of Pure Naturals Water in Detroit, beating out nearly 100 competitors in a prestigious water tasting contest.
Pure Naturals Water Filtration in Detroit / Richmond professionally handcrafts its bar H2O water using a 25-step process.
Pure Naturals Water Filtration in Richmond has once again earned international recognition for its handcrafted premium purified bottled water. The business earned a silver medal  for its Bar H2O purified drinking water with a second-place win at the Berkeley Springs International Water Tasting competition in West Virginia.
 I am very excited about our top standings among other premium brands of purified bottled water from around the world, said Jim LeGue, founder and owner of the Detroit / Richmond facility. The competition is very tough and we are proud and honored to have such a reputable product. The water tasting competition included nearly 100 different products from 18 states, three Canadian provinces and 12 foreign countries. Categories included best municipal water, best still and sparkling bottled water, best packaging and best purified drinking water. Winners were selected by a group of 10 judges from various regional and national media organizations.  Judges were instructed to look, sniff and taste the water entries using guidelines similar to those in a wine tasting competition. Entries were rated for attributes such as appearance, aroma, mouth feel and aftertaste. According to judging guidelines, waters should be clear or slightly opaque if they are glacial waters and should not have an aroma. In addition, they should taste clean, feel light and leave a person thirsty for more. The judging is very professional and the venue is intimate, LeGue said of the contest. Its definitely a respected event from within the bottled water industry. The award-winning Bar H2O water is professionally handcrafted in Detroit / Richmond using a 25-step proprietary process from Aquathin Corp. USA, that involves re-mineralizing,  the pharmaceutical-grade, pure water. LeGue said his product hydrates and replenishes those who drink it in a way that ordinary purified and spring waters do not. The water is crafted to improve body hydration, assist in body detoxification. He opened the Main Street facility in 2011 with his wife, Janet Savoyard.  We did residential and commercial work including purifying the water at two popular tortilla factories in Detroit, LeGue explained. A couple years after, I decided the right thing to do would be to open a first-of-its-kind retail store that offered people a place to seek true answers and solutions about their water treatment needs. Pure Naturals Water Filtration, is a certified water bottler in the state of Michigan. Water is such an important aspect of our well-being and we want to provide great water to our community, Savoyard noted. I am not surprised at all that our water won second place; it really is fantastic.
 By Katelyn Larese Staff Writer
For More Information About Aquathin, click
https://www.facebook.com/aquathin/