City Leaders Urge Action After Reports Of Elevated Lead Levels In Drinking Water At Some NYC Schools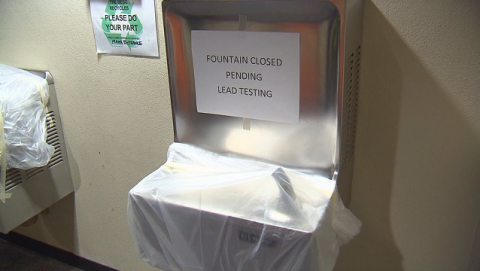 AQUATHIN NEW YORK SCHOOLS' CUSTOMERS DON'T DRINK LEAD CONTAMINATED WATER
      Reports of elevated lead levels in some New York City schools has the borough presidents demanding kids be tested and that bottled water be brought into the schools.
Bronx Borough President Ruben Diaz Jr. sent the joint letter to Schools Chancellor Carmen Fariña after several concerned parents called his office, WCBS 880s Marla Diamond reported.
We are calling for immediate action, as the health and quality of life of our children and their families are at stake, the letter states.
Since December, the city began retesting the schools drinking water under stricter guidelines issued by the state in the wake of lead contaminated water in Newark and Flint, Michigan.
P.S. 11 in Manhattan and P.S. 124 in Brooklyn are among the schools where water fountains are off-limits, Diamond reported.
Dr. Steven Marcus, former executive director of the New Jersey Poison information and Education System, said lead poisoning should have gone away years ago.
And the fact that it hasnt is a reflection on our societys willingness in developing children, he told Diamond.
Experts say if a child does test positive for lead, its more likely the poisoning came from peeling lead paint.The DOE has refused the borough presidents request, saying other drinking water sources in the schools are safe, Diamond reported.
For More Information About Aquathin, click
https://www.facebook.com/aquathin/