Cholera Outbreak in Nairobi, Kenya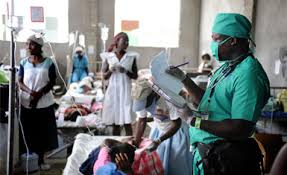 NEWS WIRE: "CHOLERA IN NAIROBI, KENYA"
[ AQUATHIN EDITOR NOTE: AQUATHIN AQUASHIELD AND MULTI BARRIER RODI CUSTOMERS DON'T DRINK CHOLERA CONTAMINATED WATER IN KENYA ]
4 people Number killed by a cholera outbreak over the past two months in Nairobi, Kenya. To control the spread of the disease, government officials said broken sewer lines would be repaired, water vendors would be certified, and a hotel and restaurant in the capital city would be shut down. Reuters...http://www.reuters.com/article/us-kenya-health-idUSKBN1A417I
A FREE SERVICE FROM AQUATHIN TECH SUPPORT NEWS WIRES !!!
FOR THE BEST TASTE IN LIFE & 37 Years Pure Excellence ...into another Quarter Century re-inventing the water industry ! Think Aquathin...AquathinK !
** AN ISO9001:2000, ISO9001:2008 QMS REGISTERED / CERTIFIED COMPANY - (IMS 0192, NQA 12635) ** & 2008 PRESIDENT'S E STAR AWARD RECIPIENT
Your Team Aquathin
For More Information About Aquathin, click
https://www.facebook.com/aquathin/