Best Purified Drinking Water – 2016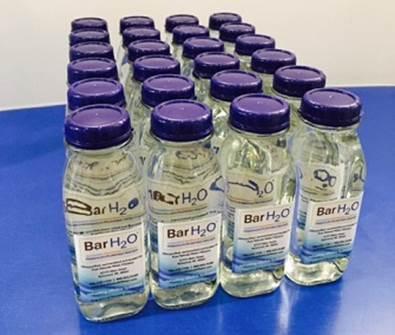 THE AWARD WINNING TASTE OF AQUATHIN BUT YOU KNEW THAT !!!
AUTHORIZED AQUATHIN DEALER IN DETROIT, MICHIGAN WINS "AGAIN" PRESTIGIOUS WATER TASTING CONTEST (article edited to fit LinkedIn & Facebook page)
29 FEB 2016 RICHMOND, MI ----
The 2016 Berkeley Springs International Water Tasting, the worlds largest, longest-running and most prestigious competition, presented awards to water entries spanning across three continents. This year Greater Detroit Michigan based Authorized Aquathin Dealer Jim Legue of Pure Naturals Water Filtration was graced with the prestigious 1st Place Gold Medal for its Bar H2O® Premium Purified Water!
The panel of judges tasted over 100 of the best waters from across the country and around the globe. Water entries were divided into four different categories and tasted over a four day period. Similar to wine tasting, each water is evaluated in a blind taste test observing visual appearance, aroma, flavor, mouth-feel, after taste and taste quality. Bar H2O® was selected as The Best Water in the Purified Water category.
Best Purified Drinking Water 2016
1st Bar H2O, Richmond, MI 2nd Divinia, Idaho Falls, ID 3rd Hamilton On Tap, Hamilton, OH 4th Mountain Drop, Linthicum, MD (bottling famous Berkeley Springs water) 5th Berkeley Springs Purified Water, Berkeley Springs, WV
Pure Naturals has entered this competition four straight years and Bar H2O® has consistently met the challenge and placed every time, taking Silver Medals in 2014 and 2015. The award-winning Bar H2O water is professionally handcrafted in Detroit / Richmond using a 25-step proprietary process from Aquathin Corp. USA, that involves re-mineralizing the pharmaceutical-grade, pure water. LeGue said his product hydrates and replenishes those who drink it in a way that ordinary purified and spring waters do not. The water is crafted to improve body hydration, assist in body detoxification.
Jim opened the Main Street facility in 2011 with his wife, Janet Savoyard. We did residential and commercial work including purifying the water at two popular tortilla factories in Detroit, LeGue explained. A couple years after, I decided the right thing to do would be to open a first-of-its-kind retail store that offered people a place to seek true answers and solutions about their water treatment needs.
In response to the award, Jim LeGue states, We are proud, honored and very excited to have achieved this prestigious recognition with the Berkeley Springs Gold Medal Award! Along with our dedicated and passionate employees, we work hard every day to produce and provide the best purified water possible.
As a State of Michigan certified water bottler, Pure Naturals is a unique operation. The full-service water store in Richmond is probably the only water store to have ever achieved such accolades for its water. Their award-winning premium purified water is available at the in-store Bar H2O® water bar or through their rapidly expanding delivery program. Pure Naturals is located at 67315 Main Street, Richmond, MI and their phone in 586-430-1726. 
For More Information About Aquathin, click
https://www.facebook.com/aquathin/
https://www.linkedin.com/in/alfielipshultz/